Combat Archery is the classic game of bows and arrows where you can now shoot your friends! Using special foam tipped arrows your teams can go head to head to battle it to become the ultimate victor of the day.
Dubbed the cleaner version paintball, this amazing game is played similar to dodgeball where it will test your accuracy skills while trying to dodge flying arrows swishing past your nose! Unleash your inner Robin Hood and show your skills against your friends and compete in a series of fun yet
competitive games such as Elimination, Medic, Capture the Castle, Protect The King, Last Man Standing and one of our favourites… a round of Stag Hunting.
If you have never picked up a bow or arrow before don't worry, one of our fully trained hosts will be on hand to quickly teach you the correct technique to fire in a safe yet effective manner and before you know it you will be firing arrows like a pro.
This exciting, action-packed game offers the ultimate family-friendly experience that engages everyone whether it is a chance to stitch up the stag/hen or even get one over on your boss at a team building event!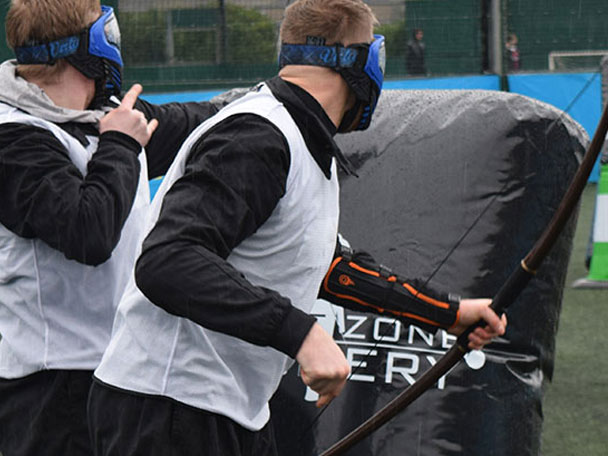 This hour long session will feature a number of different game scenarios including:
Elimination, Capture the Castle, Protect the King, Last man standing, and 1 of our favourites… a round of Stag Hunting! All against the Stag how many times will you hit him?
All equipment is provided as well as technic demonstrations on how to get the most out of your session.