What is Beer Goggle Football?
A brilliant way to level the playing field (or rather football pitch) and the perfect way to bring that mate in your group who "almost made it as a pro footballer" down a peg or two. Beer Goggle Football is quite simply hilarious.
Originally designed to raise awareness of the effects of drink driving, these clever goggles magnify and distort your vision meaning you'll struggle with the simplest of tasks. Which as you can imagine makes for a laughter-filled game of football.
Watch as your friends repeatedly miss the ball or kick it in the wrong direction as you take part in a range of games from Dizzy Penalties to a full 5-a-side football match.
This dizzying version of football is guaranteed to bring you laughs, whether you used to play professionally, join the occasional game down the local park or haven't kicked a ball in 15 years. It all goes out the window anyway as soon as you place those beer goggles over your eyes.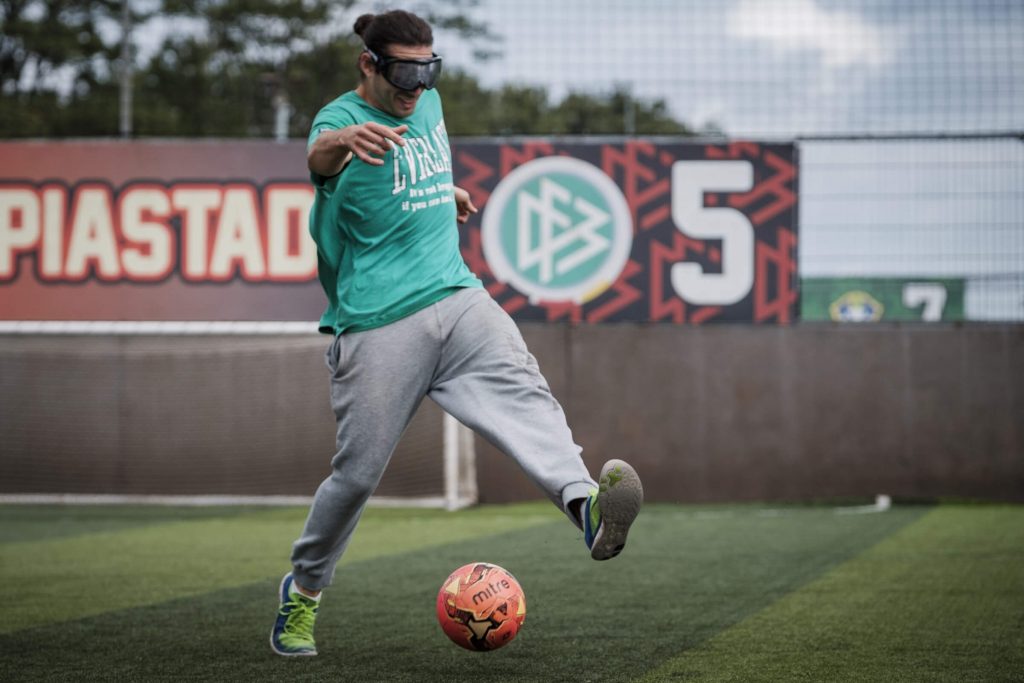 Beer Goggle Football - what to expect
During your hour-long session, your Active Giggles host will arrange a number of solo and team challenges, so you get to experience the full effects of the two different types of beer goggles that we use. This might include races, football drills, and penalties as well as a 5-a-side football game as you've never known one before.
Make sure you bring trainers or sensible footwear you can run around in, but everything else you need will be supplied by us. And be prepared for silliness – it is highly likely you will fall over at some stage to the great amusement of your teammates.
And don't worry if your fitness levels aren't where you'd like them to be. You'll be offered plenty of rest and water breaks along the way.
Booking Beer Goggle Football with Active Giggles
We like to make booking simple, because we know how hard it is trying to organise something for a large group. If you sign up for Beer Goggle Football with us, we promise we'll provide all the information you need, when you need it. And when you turn up on the day everything will be ready and waiting so you won't need to worry about a thing. Our Active Giggles team will make sure you have an afternoon to remember for all the right reasons.
Fill out the booking form and a member of our team will be in touch.

We'll ask for just £100 deposit to secure your spot, then we'll contact you for the remainder of the money two weeks before your party or event.

We will confirm the time and date via email. This will also provide details of the meeting point and our Ts&Cs. You will need to sign a disclaimer before you are able to get involved, but we'll explain all about that in the email too.

Please arrive 15 minutes before your session to ensure there's time for the all-important safety briefing before the fun starts.

If you have any problems or concerns on the day, please raise them with your experienced host who will be only too happy to help.

Enjoy!