Remember the good old days of the annual school sports day? Well it's back but with a bit of a twist! Unlock your inner child with an hour of whacky races that take you straight back to your primary school days. 
The nostalgia of these games, from the egg and spoon to the wheelbarrow race, is sure to bring some laughs to everyone involved. And you'll be surprised by just how competitive things can get as you race to be crowned champion.
Sports day is probably our most popular activity for hen dos but it's perfect for corporate team building days as well. With familiar events that are easy to participate in no matter your level of fitness, it's fully inclusive and a great way to lift morale in the office.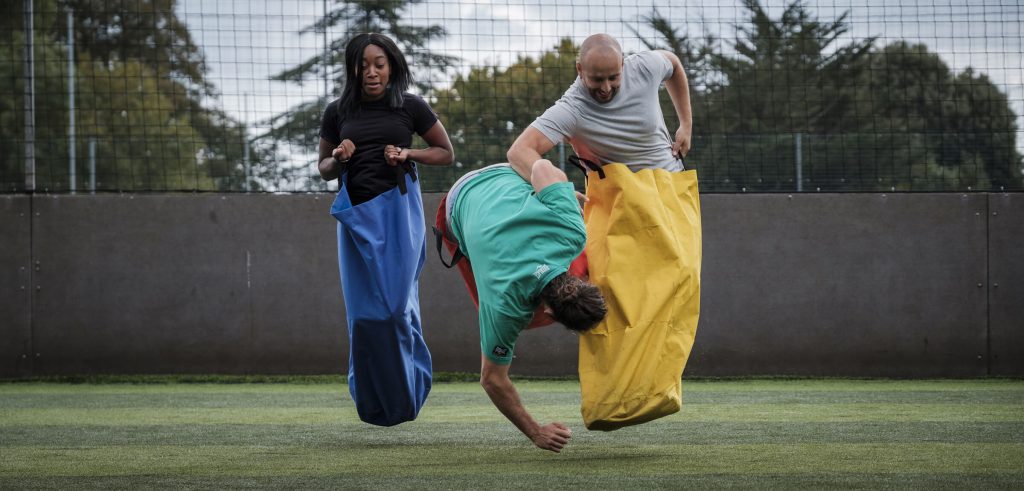 Sports Day - what to expect
Your action-packed hour will be packed full of classic races with a few adaptations made by your Active Giggles host to make sure the fun keeps coming.
We'll provide all the equipment you'll need, simply turn up with some sensible shoes and we'll do the rest. You'll get a bit of a workout that's for sure, but don't worry, there will be plenty of rest and water breaks built in for those who need them.
You can look forward to all the classics – egg and spoon races, space hopper races, sack races, 3-legged races, wheelbarrow races, hula hoop races and bean bag races. All with a highly competitive feel thanks to the threat of fun forfeits for the losers.
Worried about getting caught in the rain? Sports Day is the perfect choice as it can take place either indoors or outdoors depending on your booking.
Booking Sports Day with Active Giggles
We like to make booking simple, because we know how hard it is trying to organise something for a large group. If you sign up for Sports Day with us, we promise we'll provide all the information you need, when you need it. And when you turn up on the day everything will be ready and waiting so you won't need to worry about a thing. Our Active Giggles team will make sure you have an afternoon to remember for all the right reasons.
Fill out the booking form and a member of our team will be in touch.

We'll ask for just £100 deposit to secure your spot, then we'll contact you for the remainder of the money two weeks before your party or event.

We will confirm the time and date via email. This will also provide details of the meeting point and our Ts&Cs. You will need to sign a disclaimer before you are able to get involved, but we'll explain all about that in the email too.

Please arrive 15 minutes before your session to ensure there's time for the all-important safety briefing before the fun starts.

If you have any problems or concerns on the day, please raise them with your experienced host who will be only too happy to help.

Enjoy!