One of our less physically demanding activities, Foot Golf can nonetheless get surprisingly competitive. Whether you're a golfer or not, you'll have fun taking on a local 9-hole course to see who has the best drive and most accurate putting skills.
Foot Golf is exactly what it sounds like; a combination of football and golf. You'll kick a football round a golf course aiming to get it into the holes. But it's not quite as simple as it sounds and can get more than a little frustrating!
Played on shorter holes than usual as the average flight of a football is far less than that of a golf ball, you will be surprised at the many ways that ball will bounce thanks to the camber of the fairways and the slope of the greens. And if it's a windy day all bets are off.
Believe us, golfing talent is no indicator of success in the Foot Golf arena and in all honesty footballing prowess can only get you so far.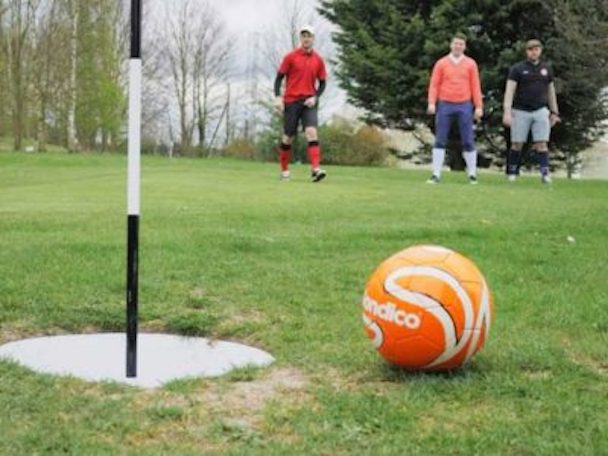 Foot Golf - what to expect
A great activity for all ages and fitness levels, this one really can span a family group for an enjoyable afternoon spent getting competitive outdoors.
Footballs and score cards will be provided and your Active Giggles host will explain all the rules before you begin. We even offer an upgrade. Choose this option and your Active Giggles host will implement exciting new rules to mix things up a bit, offer fun forfeits for the losers as well as plenty of prizes for those who reign supreme.
Let the hilarity ensue!
Booking Foot Golf with Active Giggles
We like to make booking simple, because we know how hard it is trying to organise something for a large group. If you sign up for Foot Golf with us, we promise we'll provide all the information you need, when you need it. And when you turn up on the day everything will be ready and waiting so you won't need to worry about a thing. Our Active Giggles team will make sure you have an afternoon to remember for all the right reasons.
Fill out the booking form and a member of our team will be in touch.

We'll ask for just £100 deposit to secure your spot, then we'll contact you for the remainder of the money two weeks before your party or event.

We will confirm the time and date via email. This will also provide details of the meeting point and our Ts&Cs. You will need to sign a disclaimer before you are able to get involved, but we'll explain all about that in the email too.

Please arrive 15 minutes before your session to ensure there's time for the all-important safety briefing before the fun starts.

If you have any problems or concerns on the day, please raise them with your experienced host who will be only too happy to help.

Enjoy!