Combat Archery is a classic game of bows and arrows with a difference. Using special foam-tipped arrows you will go head to head in battle with your friends without risk of serious injury. Who will show off their archery prowess to be crowned the ultimate victor of the day? 
Basically a cleaner version of paintball, this awesome game will test your nerve and accuracy as you try to avoid the numerous arrows whizzing past your nose.
Unleash your inner Robin Hood and pit your skills against family or friends as you all compete in a series of fun yet competitive games arranged by your experienced host. You'll be able to choose from Elimination, Medic, Capture the Castle, Protect The King, Last Man Standing and one of our favourites… a round of (vegetarian friendly) Stag Hunting.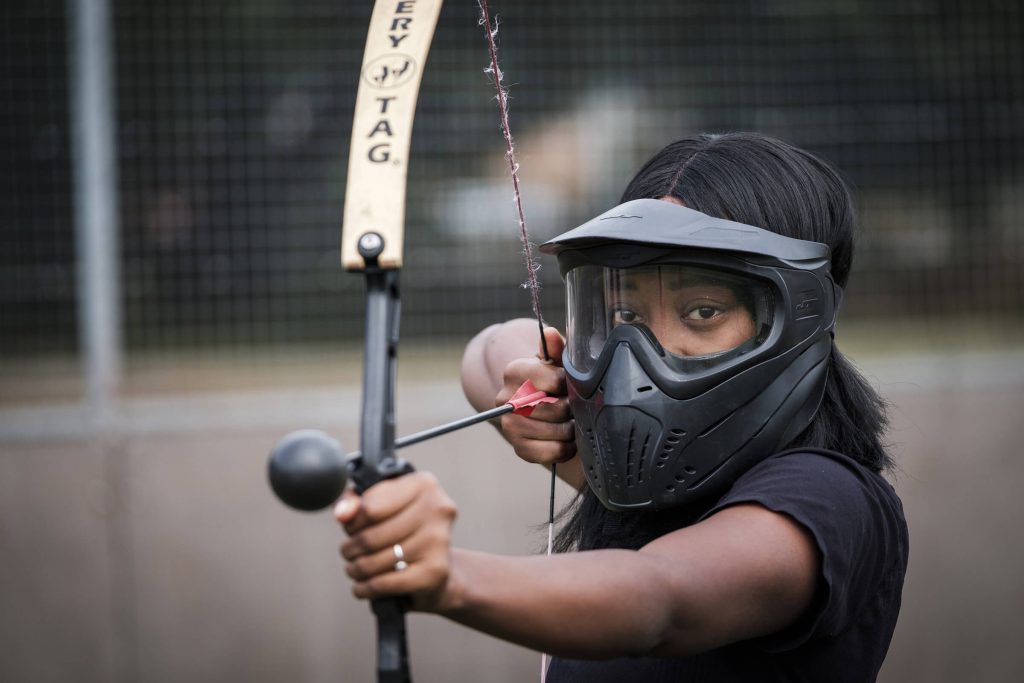 Combat archery - what to expect
If you've never picked up a bow or arrow that's no problem, one of our fully trained hosts will be on hand to teach you the correct technique to fire safely. With a bit of practise you'll be shooting arrows with an accuracy that Hawkeye would be proud of.
This exciting, action-packed game offers the ultimate family-friendly experience that will keep everyone entertained and allow groups of all ages to compete on a level playing field. Whether it's a chance to stitch up the stag or hen or even get one over on your boss at a team building event, one thing is for certain, the laughs will keep on coming.
We'll provide all the equipment you'll need, simply bring with you a sensible pair of shoes. During an hour-long session your host will make sure the fun never stops, taking you through a series of different games.
And don't worry if an hour sounds like a long time to be running around, we'll make sure there are plenty of rest and water breaks whenever you need them.
Booking Combat Archery with Active Giggles
We like to make booking simple, because we know how hard it is trying to organise something for a large group. If you sign up for Combat Archery with us, we promise we'll provide all the information you need, when you need it. And when you turn up on the day everything will be ready and waiting so you won't need to worry about a thing. Our Active Giggles team will make sure you have an afternoon to remember for all the right reasons.
Fill out the booking form and a member of our team will be in touch.

We'll ask for just £100 deposit to secure your spot, then we'll contact you for the remainder of the money two weeks before your party or event.

We will confirm the time and date via email. This will also provide details of the meeting point and our Ts&Cs. You will need to sign a disclaimer before you are able to get involved, but we'll explain all about that in the email too.

Please arrive 15 minutes before your session to ensure there's time for the all-important safety briefing before the fun starts.

If you have any problems or concerns on the day, please raise them with your experienced host who will be only too happy to help.

Enjoy!