What is Bubble Football?​
Bubble Football, also known as Zorb Football, is one of the most hilarious activities we run. It's great fun to watch as well as play, with belly laughs guaranteed.
You'll be safely strapped inside a zorb (inflatable ball) that covers your body from your knees to your head. And then you'll walk out onto the pitch for the craziest game of football you've ever played. Make like a dodgem as you run full speed into your opponents (and sometimes even your own team-mates!), knocking them off their feet and leaving them bumping, bouncing and rolling all over the pitch.
This high-impact version of the classic game has proven to be our most popular activity with footie lovers and non-footie lovers alike, making it a great choice if you're looking for a group activity that's sure to be enjoyed by all. And if you get tired of football, we have plenty of other bubble games up our sleeves. Our Active Giggles team will organise races and activities to ensure your hour-long session is packed full of laughs.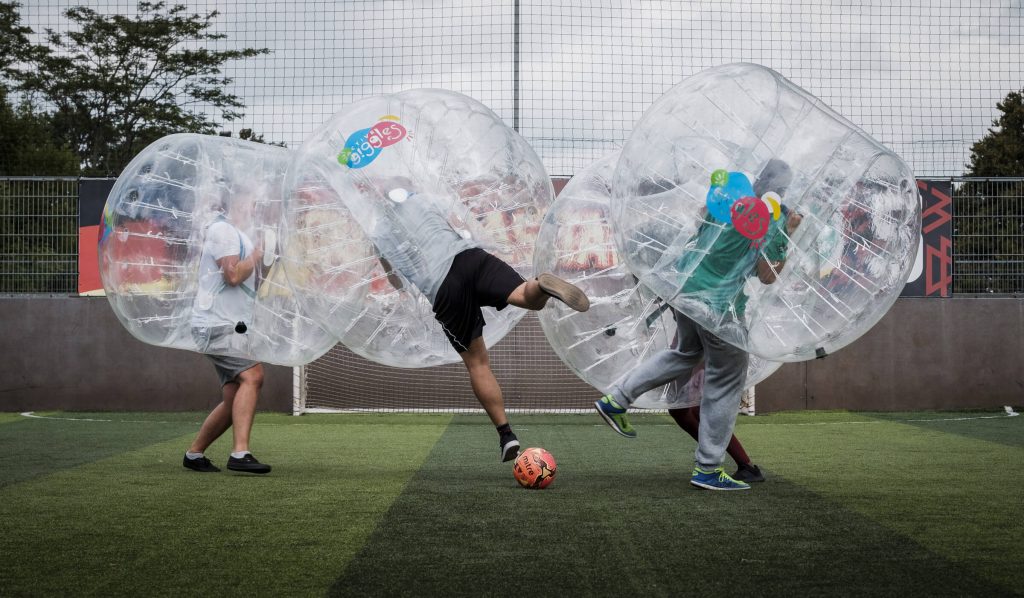 Bubble Football - what to expect
Before you begin your game of Bubble Football you will be met by one of our fully trained hosts, who will make sure the bubbles are safe and ready to go. Health and safety procedures are important to us, so we'll spend a bit of time explaining how to stay safe and get the most out of your experience.
All our bubbles have adjustable straps meaning we can accommodate adults of all shapes and sizes and children over the age of 10. And don't worry if fitness isn't your forte, your host will make sure you get rest and water breaks whenever you need them. You don't need to bring special equipment for this activity, but sensible shoes and comfortable clothes for running would be a good idea.
Your party will generally consist of 45 minutes of Bubble Football followed by a few rounds of Bubble Bull Dog.  But if you're not so keen on football, don't let it put you off booking. There are plenty of games your host can introduce you to instead. Why not try Dizzy Races, Caterpillar Race, The Roly Poly Championship or King of the Ring for starters?
 All completely crazy, utterly bonkers and certain to raise a laugh. And don't worry, there will be plenty of time for photos at the end – you won't want to forget this in a hurry!
Booking Bubble Football with Active Giggles
We like to make booking simple, because we know how hard it is trying to organise something for a large group. If you sign up for Bubble Football with us, we promise we'll provide all the information you need, when you need it. And when you turn up on the day everything will be ready and waiting so you won't need to worry about a thing. Our Active Giggles team will make sure you have an afternoon to remember for all the right reasons.
Fill out the booking form and a member of our team will be in touch.

We'll ask for just £100 deposit to secure your spot, then we'll contact you for the remainder of the money two weeks before your party or event.

We will confirm the time and date via email. This will also provide details of the meeting point and our Ts&Cs. You will need to sign a disclaimer before you are able to get involved, but we'll explain all about that in the email too.

Please arrive 15 minutes before your session to ensure there's time for the all-important safety briefing before the fun starts.

If you have any problems or concerns on the day, please raise them with your experienced host who will be only too happy to help.

Enjoy!