A must-play for any self-respecting Harry Potter fan, Quidditch allows you to experience the magic of this popular wizarding game for yourself. How is this possible? Well, you'll have to play it to believe it.
With an authentic Hogwarts cape and a Nimbus 2000 in hand you'll head out onto our enchanted Quidditch pitch for an hour of fun and escapism.
Relive your favourite moments from the books and films as you make like a Chaser, slipping the Quaffle past the Keeper to score points for your team. Channel the Weasley twin Beaters as you protect your teammates from those rogue Bludgers. Or play Seeker, the best and fastest player on the team, undertaking your ultimate quest to find that Golden Snitch and win the game.
We can't promise you'll be gliding through the clouds, but you'll come pretty close!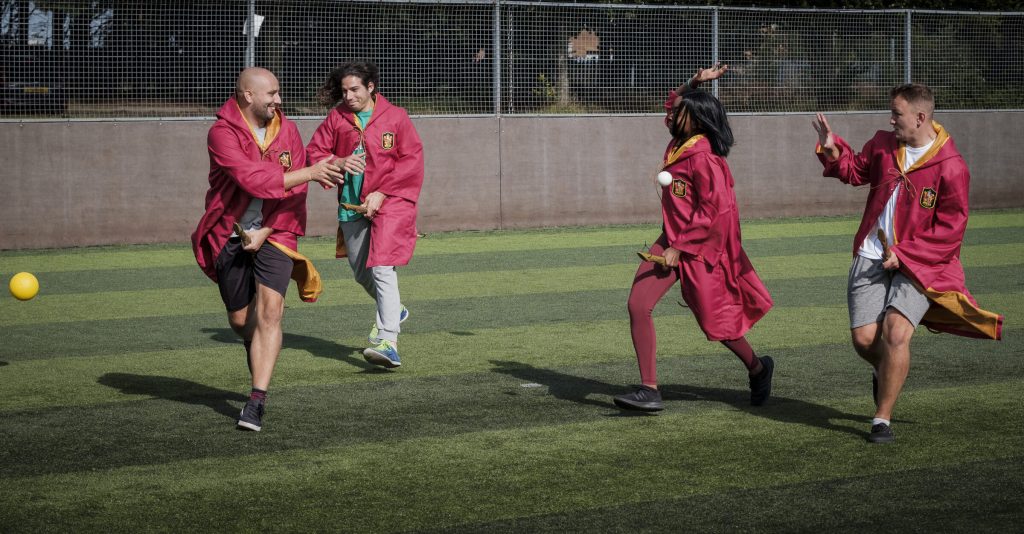 Quidditch - what to expect
The perfect way to celebrate a birthday, Quidditch is popular for children of all ages and we're seeing an upsurge in bookings for stag and hen dos too. In fact, any Harry Potter fan will revel in the chance to have a go at their favourite magical game.
Don't worry though if (unbelievably!) there are non-Harry Potter fans amongst your group. Your friendly Active Giggles host will be on hand to explain the rules, get everyone on board and make sure they all have fun regardless.   
Your hour-long session will be full of fun mini adaptations of quidditch based games to bring out the giggles in everyone, followed by a couple of full games to bring together all the skills you've learned.
You'll play Quidditch outside on a 5-a-side court and have loads of fun no matter the weather.
Booking Quidditch with Active Giggles
We like to make booking simple, because we know how hard it is trying to organise something for a large group. If you sign up for Quidditch with us, we promise we'll provide all the information you need, when you need it. And when you turn up on the day everything will be ready and waiting so you won't need to worry about a thing. Our Active Giggles team will make sure you have an afternoon to remember for all the right reasons.
Fill out the booking form and a member of our team will be in touch.

We'll ask for just £100 deposit to secure your spot, then we'll contact you for the remainder of the money two weeks before your party or event.

We will confirm the time and date via email. This will also provide details of the meeting point and our Ts&Cs. You will need to sign a disclaimer before you are able to get involved, but we'll explain all about that in the email too.

Please arrive 15 minutes before your session to ensure there's time for the all-important safety briefing before the fun starts.

If you have any problems or concerns on the day, please raise them with your experienced host who will be only too happy to help.

Enjoy!