If you've ever wanted to throw something at someone with force, but resisted, this is the game for you. You can throw our dodgeballs as hard as you like and thanks to their soft foam they won't hurt a bit.
Bring out your inner warrior as you weave expertly in and out of the balls flying in your direction, all the time trying to catch someone with your own ball, thrown with perfect accuracy. Well that's the idea! In reality it'll be carnage, but in the most brilliant way.
Dodgeball has been growing in popularity since the smash hit Dodgeball: A True Underdog Story which taught us the 5 D's of dodgeball: Dodge, Duck, Dip, Dive and …. Dodge. To this day that is the best advice we can give as you tackle our wild versions of the game.
And there's no need to worry about getting bored as we offer a number of variations which are sure to keep things interesting. You'll be able to try Standard Elimination, Medic, Behind Enemy Lines, Dancing Dodge and Stag Hunting. While your Active Giggles host will be on hand at all times to make sure everyone plays fair and has fun.
Who will be victorious as the last one standing?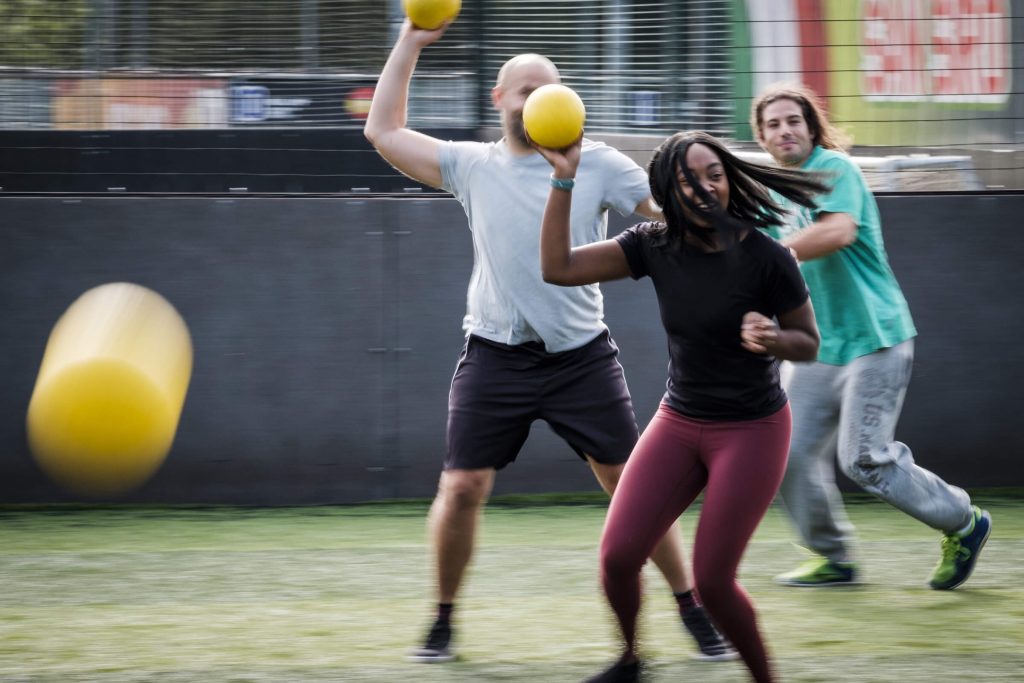 Dodgeball - what to expect
This is a great choice if you're worried about the weather, as it can be played both inside and out thanks to the soft foam dodgeballs used.
Because it combines speed, accuracy and cunning, you'll find that people of all levels of fitness can play together. But don't worry, our host will ensure there are plenty of rest and water breaks for those that need them.
We'll make sure you get to try lots of different game versions during your hour-long session, including Bull Dog, Medic, Superman, Wrong Arm, Behind Enemy Lines and more.
Plenty of giggles guaranteed!
Booking Dodgeball with Active Giggles
We like to make booking simple, because we know how hard it is trying to organise something for a large group. If you sign up for Dodgeball with us, we promise we'll provide all the information you need, when you need it. And when you turn up on the day everything will be ready and waiting so you won't need to worry about a thing. Our Active Giggles team will make sure you have an afternoon to remember for all the right reasons.
Fill out the booking form and a member of our team will be in touch.

We'll ask for just £100 deposit to secure your spot, then we'll contact you for the remainder of the money two weeks before your party or event.

We will confirm the time and date via email. This will also provide details of the meeting point and our Ts&Cs. You will need to sign a disclaimer before you are able to get involved, but we'll explain all about that in the email too.

Please arrive 15 minutes before your session to ensure there's time for the all-important safety briefing before the fun starts.

If you have any problems or concerns on the day, please raise them with your experienced host who will be only too happy to help.

Enjoy!