If you're looking for a 5-day test match, this is not it. This is Turbo Cricket. Everything that makes the sport great, sped up.
A five-a-side court focuses the action. This is cricket infused with the energy of a boxing ring (don't worry, no punches are thrown). Our extra rules – and forfeits – ensure the action doesn't die down. 
There's less polite applause and less standing around. Instead you'll be hitting for six and shouting "howzat" like the cricket hooligan you always wanted to be. 
Turbo Cricket is short, it's hectic and it's going to quite literally take your breath away (we'll make sure there's plenty of breaks to compensate!)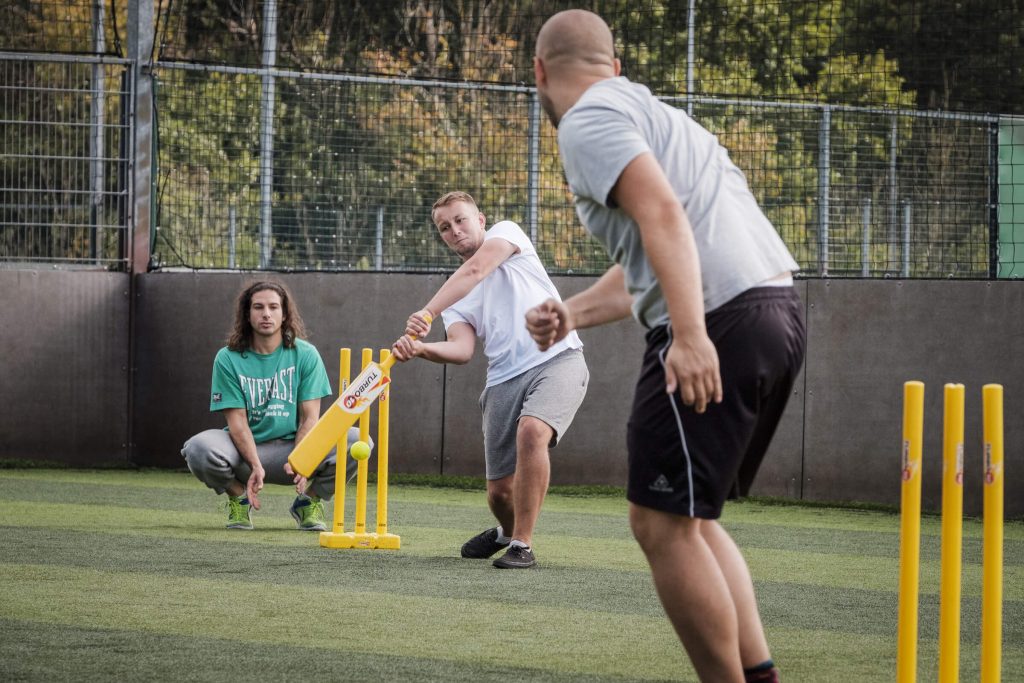 Turbo cricket - what to expect
It doesn't matter if you've never held a bat before, you'll still go down swinging. We've set up the rules of Turbo Cricket so that everyone has a good time on a level playing field. 
We'll swap out teams often, keeping a good rotation going so no-one gets bored and everyone gets a good break.
You don't need to bring anything but yourselves. You don't have to dress up in white padding because the balls are soft. So if you're hit where it would usually hurt, you'll be able to keep charging around the field with a smile on your face.
Howzat?
Booking Turbo Cricket with Active Giggles
We like to make booking simple, because we know how hard it is trying to organise something for a large group. If you sign up for Turbo Cricket with us, we promise we'll provide all the information you need, when you need it. And when you turn up on the day everything will be ready and waiting so you won't need to worry about a thing. Our Active Giggles team will make sure you have an afternoon to remember for all the right reasons.
Fill out the booking form and a member of our team will be in touch.

We'll ask for just £100 deposit to secure your spot, then we'll contact you for the remainder of the money two weeks before your party or event.

We will confirm the time and date via email. This will also provide details of the meeting point and our Ts&Cs. You will need to sign a disclaimer before you are able to get involved, but we'll explain all about that in the email too.

Please arrive 15 minutes before your session to ensure there's time for the all-important safety briefing before the fun starts.

If you have any problems or concerns on the day, please raise them with your experienced host who will be only too happy to help.

Enjoy!