What is Bubble Football?​
Bubble Football, also known as Zorb Football is where you are safely strapped inside a body zorb covering your body from your knee up to your head so you can run full speed into opponents in a high impact game of Bubble Football knocking your opposition (and sometimes your own team mates) off their feet bumping, bouncing and rolling around everywhere.
This crazy adaptation of the classic game is hilarious to watch as well a play guaranteeing laughter in every session. 
There is a reason that Bubble football is our most popular activity, at Active Giggles we make sure your hour session is jam packed with fun activities meaning it is even fun for non-football lovers.
You will be given a fully trained host who will make sure the bubbles are safe and ready to go, at Active Giggles we take pride in our health and safety procedures. We have bubbles for children and adults and the straps are adjustable meaning all shapes and sizes can play this extraordinary version of the beautiful game as long as they are over the age of 10!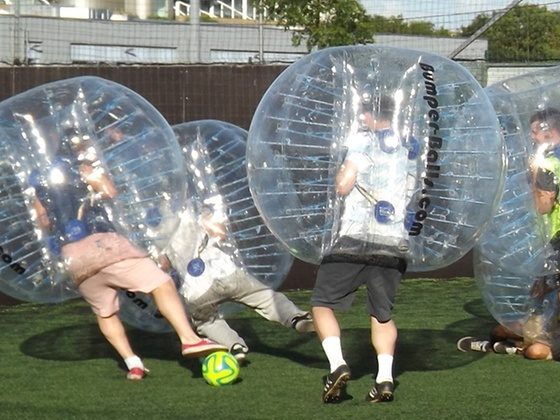 Each hour session is tailored for the participants. A football focused party would generally consist of 45 minutes of bubble football followed by a few rounds of bubble bull dog.  For those who are not so keen on football we have a number of alternative games to play including:-
Dizzy Races
Caterpillar Race
Bubble Bull Dog
The Roly Poly Championships
King of the Ring