What is Beer Goggle Football?​
Originally designed to raise awareness of the effects of drink driving we have created a hilarious adaptation to bring you beer goggle football. The goggles magnifies and distorts your vision which is absolutely hilarious watching your team mates struggle with even the simplest of tasks.
There are a number of different activities you can do while participating in an Active Giggles Beer Goggle Football event from Dizzy Penalties to a 5 aside football match.
This hysterical version of football is guaranteed to bring you laughs, it doesn't matter if you used to be pro, occasionally get out of bed on a Sunday morning and play down the local park, or haven't kicked a ball in 15 years – it all goes out the window as soon as you place those goggles over your eyes.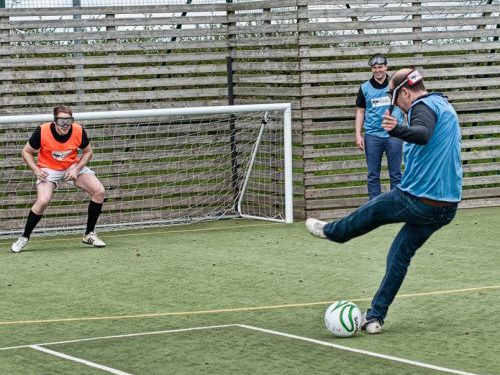 You will compete in a number of solo and team challenges to experience the full affects of the 2 types of goggles. This will include races, football drills, dizzy pens as well a 5 a side football games.
It is highly likely that you will fall over at some stage at the amusement of your team mates!